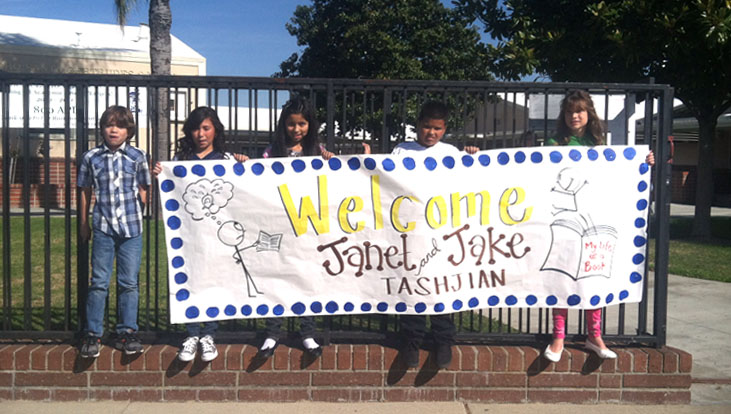 Janet has been doing author visits for two decades, usually to elementary and middle school students. Most often, Janet comes to schools where the students have read at least one of her novels; very often, her collaborator Jake Tashjian comes with her. Her presentation covers how she became a writer, how she comes up with stories and characters, her writing process, and how she came to love research and revising — really! Each session is followed by a lively question and answer session where students can ask not only about her books, but about how she can help them become better writers. Most schools require two presentations, usually in the morning. Another affordable option is a Zoom presentation; Janet and Jake love to do those too!
Teachers, parents, and librarians can contact Authors Unbound for more information on both in-person and Zoom events.
Make sure to ask about publisher discounts on books!
"Thank you so much for visiting Brookside! We love and can't wait for your author visit each year. Your presentations are extremely engaging and teach our students so much about the writing process. We especially love that your son accompanies you and shares his experience with learning vocabulary. A favorite part of the presentation is guessing his illustrated vocabulary words. After your visits, your books fly off the shelves. It is amazing to see the pride our students have in reading your books knowing that they had the incredible opportunity to meet and learn from you."
"Prior to Ms. Tashjian's visit, we did not have the reputation for being a school of readers. After her visit, it was a different story. Ms. Tashjian has the rare ability to write wonderful books AND relate to students in an authentic and enthusiastic way. Even our younger students were mesmerized by her presentation. Our teachers quoted her for months after the school visit. Ms. Tashjian is one of my favorite authors to work with."